What's Recent for Residents
Local information for Village of Saranac Residents, from important phone numbers to information on recycling.
Whether you're a Resident or a Saranac Aficionado, you can find information here just for you! Listed below are notes about What's New in the area, as well as Notices from the Village, starting with the most current and moving down to original postings.
Important Phone Numbers
For current and coming residents, here are some phone numbers that might be useful:
Emergencies :
911
Police (Non-Emergency) :
616-527-0400
Fire Department (Non-Emergency) :
616-642-6000
Municipal Building /Village Office :
616-642-6324

To Pay Village bills with

Credit Card,


Use following PLC codes

Tax Bills :

PLC # 4101

Water, Sewage, and Refuse Bills :

PLC # 4102
Then either call :
888.604-7888
...Or go to :

govpaynow.com
---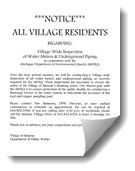 Village Wide Inspection of Water Meters
& Underground Piping:
Please call Tim Simmons (616.902.3946), Village DPW Director, to schedule an appointment (see full Notice below):
Refuse & Recycling Services for Village Residents
The Village of Saranac contracts with Granger for residential Refuse & Recycling Services. Call the Village Office at 616-642-6324 to add or change services. Please see flyers below for more information, or visit Granger's website at www.grangernet.com.

Granger Flyer

Recycling Information

2018 Recycling Calendar
Cross Connection Information
A "Cross Connection" is an arragement of piping that could allow undesirable water, sewage, or chemical solutions to enter your drinking (potable) water as a result of backflow:
Looking for other information?